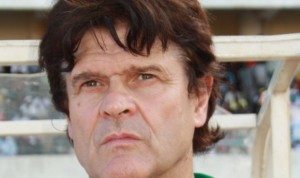 The Togolese national team is getting more and more stuck into the crisis. Just about a month to the Afcon 2013, the Eperviers of Togo are still scotched with problems.
After the withdrawal of Emmanuel Adebayor and the hesitations of Kossi agassa and Alaixys Romao, the master of the team may well resign.
"I am going to provide my answer 48 or 72 hours hence. I will see what will happen with the other players first", the coach Didier Six explained according to léquipe.fr. All days are alike in Togo.
Didier Six is declining to participate to the Afcon with an incomplete team. He could turn back to Senegal and apply for the succession of Joseph Koto.
Having been lined with Tunisia, Algeria and Ivory Coast in the group, it will be complicated to get the upper hand if the team is not united.