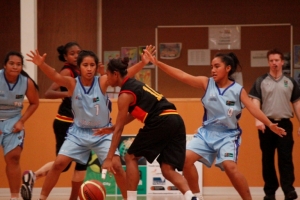 Australia's men's and women's team take gold at Pacific Youth Basketball Championships.
The Australian girls will have their name engraved again on the perpetual trophy for the Pacific Youth Basketball Championships after they defeated New Zealand in the gold medal game of the latest edition in Churchill, Australia.
In the nine editions of the event, Australia have taken the gold medal on seven occassions.  Only two other countries New Zealand and Fiji have won the Championship since it began in 1997.
The Australian women have dominated the competition at this event – you need to go back to 1998 to find a different winner, with the Australians, as a result of the latest win securing 7 back-to-back titles.
The Australian girls did not have it all their own way in their victory in this year's event.  New Zealand went to the quarter break holding a 17 to 13 lead, but a 15 to 4 second period and 27 to 14 fourth period favouring the Australians, establish the lead which saw them record a 67 to 49 final scoreline.
Aussie boys give nation a double-header
Not to be outdone by the Australian girls, the Australian boys, when their turn came to take centre stage, completed a three-peat by overcoming their New Zealand rivals in the gold medal game of the men's competition.
Although the Kiwis lead at the quarter time break courtesy of 16 to 10 scoring, by halftime the Australians held a narrow 26 to 24 lead, which they extended in the third and fourth quarter for a 66 to 49 final scoreline.
The Australian boys now have their name of the trophy for three editions in a row, but the New Zealanders still lay claim to the honour of most wins in the nine editions of the event.
With victories in 1998, 2000, 2004 and 2006, New Zealand is the leading nation in this Championship. Just behind Australia, with gold in the last three editions, is Fiji which won the title in 1997 and in 2002.
Pacific nations take away wins as well
Bronze medals in the 2012 event went to Fiji in both the boys and girls category, in both cases over gallant Guam teams.
In addition, the six Pacific nations participating in the Championship had players, coaches and referees selected in Oceania All Stars teams which will return to Australia in January 2013 to take part in the Australian Country Cup.