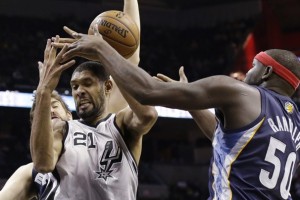 SAN ANTONIO — Tony Parker scored 30 points, Tim Duncan had 27 points and 15 rebounds, and the San Antonio Spurs shook off a "disappointing" $250,000 fine by the NBA to beat the Memphis Grizzlies 99-95 in overtime Saturday night.
Coach Gregg Popovich said before the win he doesn't know if the Spurs will appeal the NBA's stiff penalty for sending Duncan, Parker and two others home to rest Thursday instead of them suiting up against the Miami Heat in a nationally televised game.
Popovich said he was disappointed by Commissioner David Stern's decision. He also didn't rule out sitting out players again in the future.
HEAT 102, NETS 89
MIAMI — Dwyane Wade scored a season-high 34 points, LeBron James added 21 points and Miami rallied from a 14-point deficit to beat Brooklyn.
Ray Allen scored 13 and Norris Cole finished with 12 for the Heat, who won their sixth straight and remained atop the Eastern Conference. Miami held the Nets to 30 points in the second half.
TRAIL BLAZERS 118, CAVALIERS 117, 2OT
CLEVELAND — Nicolas Batum's 3-pointer with 0.2 seconds left in the second overtime gave Portland a victory over Cleveland.
Trailing 117-115 with 2.5 seconds remaining, Portland called timeout and inbounded near midcourt. Damian Lillard passed to Batum, who hit a fadeaway jumper from the right corner in front of Cleveland's bench. With time only for a tip-in attempt, the Cavaliers couldn't get a shot off before time expired.
ROCKETS 124, JAZZ 116
HOUSTON — Patrick Patterson scored 20 points, Chandler Parsons and Jeremy Lin had 19 apiece and Houston beat Utah.
THUNDER 100, HORNETS 79
NEW ORLEANS — Kevin Durant scored 20 points, Russell Westbrook added 18 points and 10 assists, and Oklahoma City won its fifth straight game.
The two Thunder stars did all their work in first three quarters, resting for the final period after helping their club build a 27-point lead.
BUCKS 91, CELTICS 88
MILWAUKEE — Larry Sanders had 18 points, 16 rebounds and five blocked shots, and Milwaukee rallied for a victory after Boston scored the first 17 points of the game.
Monta Ellis had 17 points and seven assists for the Bucks, while Ersan Ilyasova added 15 points and five rebounds. Brandon Jennings had a big 3-pointer in the fourth quarter.
BULLS 93, 76ERS 88
CHICAGO — Luol Deng scored a game-high 25 points and Chicago beat Philadelphia.
Deng also had a season-high seven assists and has led the team in scoring in consecutive games. He scored 22 in a 101-78 win over the Dallas Mavericks.
Richard Hamilton added 15 points for the Bulls, who played the 76ers for the first time since last season's first-round playoff series.
MAVERICKS 92, PISTONS 77
DALLAS — O.J. Mayo broke out of a shooting slump with 27
points and Dallas celebrated Derek Fisher's Mavericks debut with a victory against Detroit.
Mayo was coming off consecutive games with season lows and started 0 for 4 before taking over in the third quarter. He scored 16 points in a 17-4 run that eventually stretched into a 25-6 surge as Dallas snapped a three-game losing streak.
Fisher got the start a day after the 16-year veteran's first practice with the Mavs. His presence seemed to spark Darren Collison, the struggling young point guard he was brought in to help. Collison had eight assists and no turnovers.
Brandon Knight led Detroit with 20 points, including 18 in the first half.
WARRIORS 103, PACERS 92
OAKLAND, Calif. — Stephen Curry had 20 points and a season-high 11 assists to lead Golden State over Indiana.
Klay Thompson scored 22 points for the surprising Warriors, who have won three straight and remain tied with the Los Angeles Clippers for first place in the Pacific Division. David Lee added 13 points and 12 rebounds for his ninth double-double of the season.
CLIPPERS 116, KINGS 81
LOS ANGELES — Jamal Crawford scored 17 points off the bench, leading seven Clippers in double-digit scoring, and Los Angeles rested all of its starters in the fourth quarter of a blowout.
The Clippers beat Sacramento for the fourth straight time. Blake Griffin had 14 points and nine rebounds, Chris Paul had 14 points and five assists, and DeAndre Jordan had 13 points and six rebounds.
Marcus Thornton scored 20 points for the Kings, and Jason Thompson had 16 points and 12 rebounds.