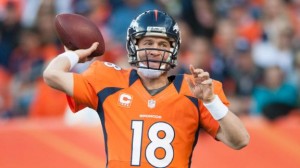 There were a few within the Tampa Bay Buccaneers' ranks who allowed their usually narrow focus to widen a bit last week, daring on occasion to look beyond their most immediate task and actually discuss the playoffs.
You can be sure no such discussions were being had by the Bucs after what happened Sunday at Sports Authority Field, where the Broncos dealt what might have been a costly blow to Tampa Bay's playoff hopes.
Not only did the Bucs' 31-23 loss allow the Falcons to clinch the NFC South title, it also exposed Tampa Bay as a team good enough to compete with but not beat the members of the NFL's playoff pack.
This was the Bucs' second straight loss to a division champion, Atlanta beat them last week and Denver clinched the AFC West with its win and dropped them to 6-6, a game behind Seattle for the NFC's last wild-card berth.
Not that a one-game deficit is too much to make up, but right now they seem like a team challenged to win one game, let alone the two or three it likely will take to get back in the playoff picture.
And make no mistake, after hearing some of the forward thinking coming out of his locker room last week, winning one game is precisely where Bucs coach Greg Schiano intends to place his team's focus.
"We need to go back home and forget all this other nonsense and just get better and focus on how we get better this week so that we can be 1-0 at the end of the Eagles season,'' said Schiano, whose team plays Philadelphia at home.
"That's what we have to lock in on as a football team, and we have a 3 1/2-hour plane ride to think about how to do it. But we can't just talk about how we're going to do that, we actually have to go out and do it.''
The final score might not indicate it, but there is a lot of work to be done. And not just on the defensive side of the ball, where the Bucs' battered and beleaguered secondary was picked apart yet again on Sunday.
Peyton Manning completed 27 of 38 passes for 242 yards and three touchdowns. He threw one pass to nose tackle Mitch Unrein for a touchdown and another to running back Knowshon Moreno, who was flat on the ground when he caught the ball.
The greater and growing concern the Bucs have, though, is on the other side of the ball, where Tampa Bay has suddenly reverted back to its September ways, particularly in the running game and in the red zone.
One of the league's 10-best rushing teams three weeks ago, the Bucs were held to less than 74 yards rushing for the second game in a row and once again settled for field goals instead of touchdowns inside the 20-yard line.
Schiano argued that the Bucs might have had better rushing totals had the score not forced them into a throwing pattern in the third quarter, but the bottom line is the Bucs are averaging just three yards per carry the past two weeks.
That and their trouble in the red zone, where they are four-for-six the past two games, are suddenly keeping the Bucs from winning games they the way were when they were rolling a few weeks ago.
"Scoring touchdowns is definitely our No. 1 goal,'' said receiver Mike Williams, who caught a touchdown pass late in the fourth quarter that only served to make the game closer than it was. "But sometimes you just have to take the points.''
The Bucs did that on their first drive of the game after reaching the Broncos 14-yard line and again after they picked off Manning early in the fourth quarter, which is another growing problem.
Two weeks ago, the Bucs led the league with 11 touchdowns off turnovers. Since then, have failed to turn any of their three takeaways into touchdowns, settling instead for field goals in games where touchdowns could have been the difference between winning and losing.
Of course, it's not that the Bucs' opponents don't have a role in that. On Sunday, the Broncos took away the Bucs' deep passing game by positioning their safeties deeper than usual.
That forced quarterback Josh Freeman to look mostly for short and intermediate options, but the Broncos pass rush, which generated one sack and three quarterback hits, made it hard for him to finish those throws.
"They do that to everybody,'' Schiano said of the Broncos, who limited Freeman to 18 completions on 39 throws, 242 yards and two touchdowns. "They were very, very productive there, and they made a couple of plays that certainly hurt us.''
One of those came as a result of Unrein's hit on Freeman late in the third quarter, just as he released the ball. Freeman let go a soft toss that linebacker Von Miller intercepted and retuned 26 yards for a touchdown and 28-10 Denver lead.
"That pick six, Josh had no control over that,'' Schiano said. "That was a throw induced by a hit. But the reality of the situation is, that (play) changed the complexion of the game.''
If it changed the complexion of the game, then it might have changed the complexion of the season, as well. The Bucs clearly realize time is running out to change it back.
"We are what we are,'' cornerback Ronde Barber said. "We're a 6-6 team with four games left, and we'll play those four games one at a time just like we have all year and see where we end up.
"Right now, that's all we can do.''