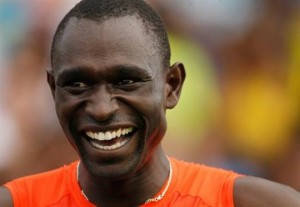 David Rudisha has been elected the Kenyan athlete of the year 2012.
The Olympic champion and  World record holder of the 800 m category (1' 40" 91), has also got the distinction of the best athlete in the Olympic Games of London.
The comeback prize has been bestowed to the female World champion of 800 m, Pamela Jelimo.
The Olympic female champion spent two year without running before she gets to the highest level in 2012.
In two years, the interest in the lanky runner native of  Kilgoris in the Rift Valley, has grown steadily. Rudisha with his ample stride happened to hustle his discipline.
In the Berlin meeting on August 22, 2010, to the two hundredths the World record of 800 m since thirteen years.
Seven days later in Rieti (Italy), he  improved the time of eight hundredths, completing two laps in 1 '41 "01. Two world records in a week, the performance helped to promote "King David," 21 years at the time.
David Rudisha has transformed the 800 m race into a tactical excellence, usually by pushing jerky, a solitary performance.
At 23 years old, Rudisha discovers the Olympic Games this year after having missed those of Beijing due to an injury.
David Rudisha has been nominated for the title of the African athletic of the year to Africa Top Awards 2012.
Also read:
David Rudisha is one of the nominees for Best African sports male of the year.
To vote for him, click here : http://www.africatopsports.com/africatopsports-awards-2012/