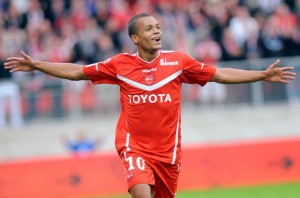 In this period of crisis with the Togolese football, it is not sure for the binationals though being courted to accept an invitation from the technical staff. Matthieu Dossevi, one of them, has been exclusively genuine with Africa Top Sports. He responded " no" to Afcon 2013. But the player of Valenciennes hopes to join the national team in the 2014 World Cup's playoffs.
Togolese are looking forward to see you for the Afcon. Would it be possible?
No. I do not think so. I am going to stay with my team for the meantime. Let us plan for the playoffs for the 2014 World Cup. Now I am giving the priority to my club.
What could be the reasons of such answers?
These are personal and familial reasons. When the right time comes, I will be with the national team. But I don't think this time is mine.

People talk of a deal between Thomas your brother and the coach, Didier Six. He coming back to the national team may attract you too. Right?
The coach is just making his choice. I saw him several times in my club and we discussed about the national team. He knows my view point. If he gets my brother,  it is his will. My case is also another story.