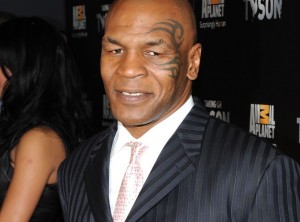 Mike Tyson declared on Monday that he wishes to play his autobiographic show outsiders, especially in India or Saudi Arabia.
In the promotion to his spectacle entitled "irrefutable truth", the former American boxer affirmed that being on the scene made him feel like the drugs he had been taking during his years down in hell.
The former World champion of heavyweight declared that a journey to Australia last month made him trust his capacities of sharing his things with the public in the USA as well as abroad.
"The Australian press thought I was the abominable snowman before they learned to know me. They thought I was fearful like in past", he said.
"But at the end, this journey gave me an incredible confidence that I will attain my ends". 
"The scene makes me proud, the fans make me proud, this is the sensation I ever sought while taking the drug".
In his show produced by Spike Lee, "Iron Mike" told his childhood story in Brooklyn, his up and career, his dissolute life, alcohol and prison.
Mike Tyson, 46 years old, has marked the history of boxing by becoming in 1986 when he was 20 years old the youngest World champion of heavyweight, a category that he dominated from 1987 to 1990 thanks to a special power of phenomenal hits that enabled him to handle 58 victories of which 44 KO.