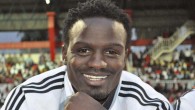 The Kenyan midfielder of Inter Milan, McDonald Mariga took again the competition last Sunday during the short victory of the Nerrazuri over Palerme.
Injured 8 months ago due to the break-up of crossed ligaments, the player can breathe at last.
Mariga was very glad after the match: "I thank God for his miracle and my recovery. This has been 8 months of sufferance and I am very happy to be back. Now, I have a lot to do in order to rebuild my body".
Being the first Kenyan player deriving from Eastern Africa to win the Champions League, MCDonald was under the leadership of José Mourinho.