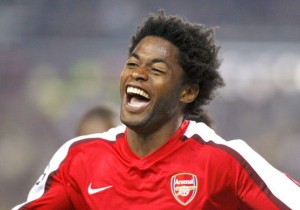 Alexandre Song commonly known as Alex Song is a Cameroonian professional footballer born on September 9, 1987 in Douala in Cameroon.
His full name is Alexandre Song Billong and is the cousin of the former Cameroonian international player Rigobert Song. He possesses the French citizenship.
Journey
Having been trained in Bastia, he quickly flied trough Arsenal in England before joining Barcelona.
Career
-At 14, he joined the training centre of the Sporting Club of Bastia while being from Red Star 93.
-2004-2005, François Ciccolini made him sign a professional contract at only 16 years old.
-2005, He was borrowed for a season in Arsenal
-June 2006, he Signed permanently in Arsenal
-2066-2007, he was borrowed to the club of Charlton Athletic.
-2008-2009, he was back to Arsenal
-August 18, 2012, he was transferred to FC Barcelona for 19 million of Euros. His buy-out clause was 80 million of Euros.
"I want to inform you that I going to play in Spain with FC Barcelona. This decision has not been easy to take for both me and my people. I am expressing my heartfelt thanks to the team of Arsenal which made of me what I am today. I am also thanking all the fans of the gunners who always wishe for a better future. Arsenal has meant a lot in my career and all I have to say is thank you".

National selection
-2005: he got selected for the first time while he was only 18.
-2008: he wore for the first time the jersey of the Loins Indomptables of Cameroon.
Palmares
-2011: finalist of the League  Cup with Arsenal
-2008: finalist the African Cup of Nations where they were defeated by Egypt 4-2.
His clash with Samuel Eto'o
"There is no conflict between  two stars since me I am one of the best player in the World whereas Song is not even part of the best players in Cameroon".
Alexandre Song is one of the nominees for Best African male player of the year.
To vote for him, click here : http://www.africatopsports.com/africatopsports-awards-2012/