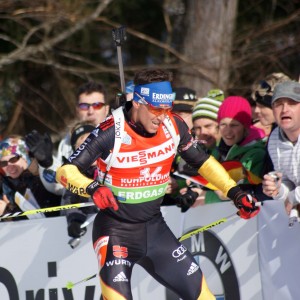 After sustaining a major knee injury in September 2011, Germany's Michael Greis fought hard to make a comeback in time for World Championships in Ruhpolding  where, more than anywhere else in the world, German fans converged for a two-week celebration of their favorite sport.
He managed an 11th-place finish in the individual race, good enough to indicate that he still had it. After 11 World Cup victories, Greis who started competing when the German men's team were the heavyweights, with the likes of Ricco Gross and Sven Fischer also dominating the sport  thought that with a year of real training and no pesky knee injury, he could get back on top.
After placing 67th in the individual race in Östersund last Wednesday, he changed his mind, and announced his retirement on his blog.
"In competitive sports, you have absolute faith, carry the will and the winning gene," he wrote on his blog.
"This is no longer the case, if one does not the power that prevails today in the biathlon, you have no chance. The individual in Östersund, for me already passed since it had barely begun. Already in the first lap, I felt, "Hey Michi, what is missing here?" And that was very decisive. It was nothing of the fighting spirit there that made me for years an excellent athlete and made successful. I just felt an emptiness inside me and I realized that here will be my last race. I knew that I arrived in the home stretch of my career."
Greis went on to write that he had certainly had worse races in the past, but that he had been very excited with his training this summer and only realized during the race that the fire was no longer there.
He dominated the sport in the middle of the last decade, claiming three gold medals in the 20km individual, 15km mass start and 4×7.5km relay at the 2006 Winter Olympics in Turin.
He won three World Championship titles and the 2006/07 overall World Cup title.
He is happy with his career and thanked all his sponsors, teammates, and fans, he will study International Management now that he has some time on his hands.