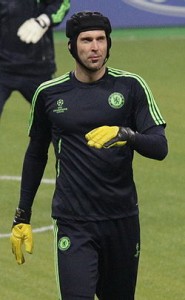 The goalkeeper Czech has for long time raised Chelsea's evolution during years on the site of FIFA.
"I think expectances changed as the club's image in general. When I arrived, Chelsea has never won the championship.
Jose Mourinho was just named and everyone said:" if you accomplish a good season, you will be qualified for champions league, it would be an interesting start." But Mourinho come with other ideas. He did not want to succeed at the beginning, he wanted to win the championship.
"The team has rapidly found his stamps and the results have been stored. We won two sharpened titles. At once, we were no more a pretender among others.  We were champions and we wanted to be at the top of the advertisement.
"It was an important change, we were at the head, what has never been simple. Some teams won the championship and disappear, tt was not our case. We want to keep up among the two first and play the title each year. Since I am there, we have regularly undertaken equable game with Manchester United.
"We had not always the above but we were always there at the head, ½ final of champions league, to struggle big matches. Soon or later, we were surely going to win that champions league. It has taken eight years, that's long but we were often unlucky during that period."