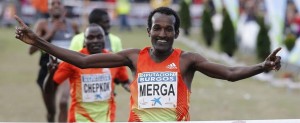 Back from injury, the Ethiopian Imane Merga happened to be imperative on his land in the clubs cross country.
The World cross country champion has been the fastest one during the third  stage of the Ethiopian clubs championship held in Addis Abeba.
The Ethiopian traveled 12 km in 35 '41 "and beat Feyisa Lilesa 24 seconds and Gemechu Edao more than one minute.
Imane Merga gives a strong signal before the World Championships scheduled for March in Moscow. He has to defend his title in the Russian capital.
In the women Aberu Kebede (8 km 20 '26 ") has been imperative in front of Utura Sule (20'32") and Shitaye Eshetu (20'38 ").