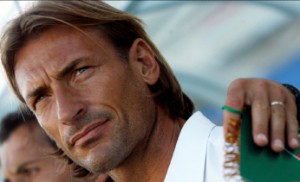 Hervé Renard is a French football manager and former professional player born on September 30, 1968 in Aix-les-Bains in France .
He is currently the head coach of Zambia national football team, with whom he won the 2012 Africa Cup of Nations, his first title as a coach.
Professional journey :
Player
1983-1990: AS Cannes
1991-1997 : Stade de Vallauris
1997-1998 : SC Draguignan
Hervé Renard played only one match of D1 which was against Matra Racing during the 1988-1989 season.
Coach :
2005-2007: Coach of AS Cherbourg (national club). He was the vice coach of the Ghanaian national team.
May 7, 2012: Coach of the Zambian national team. He led the team to the quarter-finals for the first time since 14 years.
April 8, 2011: Coach of the national team of Angola.
November 2011: He reached the top of the Zambian national team.
Palmares :
2012: Winner of the African Cup of Nations
Hervé Renard is nominated as the best African coach of the year by the 2012 Africa Top Sports Awards.
To vote for him, click here : http://www.africatopsports.com/africatopsports-awards-2012/