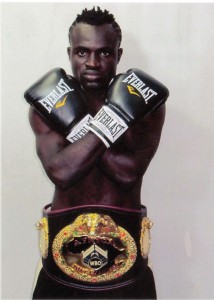 US based Ghanaian boxer, Emmanuel Addo says he has almost signed the deal to take on newly crowned WBA International Lightweight champion, Emmanuel Tagoe even though he is fighting another opponent on December 14.
Addo, famously nicknamed Money Mosquito (11-1-1, 9KOs) is scheduled to take on American Emanuel Gonzalez (11-0, 7 KOs) in a Lightweight contest at Times Union Centre, Albany, New York on Friday December 14 in what will also be his fight since relocating to the US earlier this year.
The Ghanaian has revealed to Sportsinghana.com his confidence of inflicting a first career loss on the undefeated Gonzalez then fly down to Accra for the mission to conquer Emmanuel Tagoe AKA Game Boy.
Tagoe defeated rival George Ashie barely two weeks ago in the main fight of Asamoah Gyan's BabyJet Promotions' first event dubbed 'Clash of Kings.
Sources close to BabyJet Promotions have confirmed that though the deal and date have to be finalized, talks have been held and Tagoe versus Addo could be the fight that headlines their next promotion.
"Ýes, trust me I'm going to beat this guy (Gonzalez) easily, believe me I've trained and prepared very well. It's been all training for me since I came here over 6 months ago and it's the best of training. This fight is just an opportunity for me to test my readiness for the big fights coming my way soon," Addo said from his US base.
He explained: "The bigger one is for me to come over to Ghana to fight Emmanuel Tagoe, that is the big fight for me but l will prove myself and win this fight against Gonzalez before anything else. Yes Tagoe is on my mind because I can't wait to silence him but first things first so I'm focused on Gonzalez now."