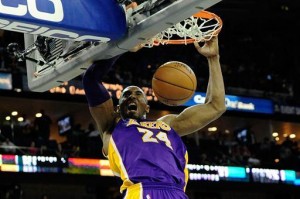 Kobe Bryant or Kobe "Da Best" just needed two quarter times to prove he can be on the top. 
What amazing is that player… his 14th goal of the evening helped him to engrave his name among the best players. Exceeding Wilt Chamberlain, he becomes the fifth champion who enters the circle of the great players.
 "It's a tremendous pleasure, that is the fewer I can say. When we have a glance on the number of the guys that played that league and the number of those I'm going to join, it makes that evening so and so special" has commented Kobe after the victory of the Lakers at New Orleans.
Fans greet Los Angeles Lakers shooting guard Kobe Bryant (24) as he walks off the court after an NBA basketball game against the New Orleans Hornets in New Orleans, Wednesday, Dec. 5, 2012. Bryant became the youngest player in NBA history to surpass 30,000 points. The Lakers won 103-87.