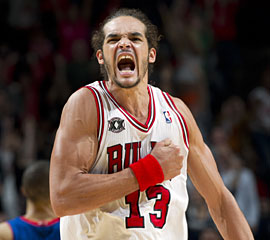 If you were surprised by the career night Joakim Noah had in Friday's win over the Detroit Pistons, in which he posted career highs in both points (30) and rebounds (23), don't worry about it.
Even Noah was a little shocked. The happy-go-lucky Chicago Bulls big man sat in front of his locker stall shaking his head a little after the 108-104 victory.
"It feels great to play well and win," Noah said quietly. "We just got another one (Saturday) so you can't get too happy even though it's crazy to have numbers like that. But I'm happy we won and you just got to move on."
Only problem for him is that after the performance he just had, none of teammates or coaches wanted to move on at all. They were happy for the center and beaming like proud parents.
After some good-natured teasing about how they missed shots on purpose to get his numbers up, Noah's peers went out of their way to not only praise the way he played Friday night, but what he's done all season.
"I told him that was some Shaq-type numbers," Bulls forward Carlos Boozer said. "Because we needed every rebound, we needed every point, and he gave it to us. Jo's one of them guys that always works hard, people don't give him enough credit. He busts his butt every day, he's working on his game. People don't understand how talented he really is because everybody thinks he's just a defender, but he goes hard. He's in the gym early working on his game, in the gym late working on his game … I know the numbers were astronomical tonight but he's been great really all season to be quite frank."
By racking up 30 points and 23 rebounds and dishing out six assists, Noah strengthened what was already a solid All-Star bid. He did all the little things the Bulls needed him to do and he did it from start to finish.
"Jo's been playing well all season," Bulls forward Luol Deng said. "In a game like this (his performance) just lets people know how hard he works. He always goes (hard). Tonight he was rebounding every ball, his energy was unbelievable and probably the best game of his career … the stats are just unbelievable in this game."
Noah also reinforced just how important he is to the rest of his teammates because they feed off his energy. Every time they see him dive on the floor to grab a loose ball, it makes them play just a little harder.
"It's huge," Bulls guard  Kirk Hinrich said. "You see a teammate going like that. You don't let your teammates down anyway, but see a guy going like that and playing with that kind of heart, you definitely don't want to be not giving it your all as well."
Noah's performance became spectacular because of how solid it was. He was everywhere for the Bulls on a night when their defense was slow to respond. For Bulls coach Tom Thibodeau, Noah's performance was just a sign of bigger and better things to come.
"He played really well in every area," Thibodeau said. "Defense, rebounding, scoring, passing, play-making, mental toughness, digging down. Got us out of the hole. A great all-around game."
The performance was even more gratifying to Noah because it came in front of old teammate and mentor Ben Wallace.
Wallace and Noah clashed at times during Noah's rookie season, but he has always spoken highly of Wallace's presence in his career.
"That's my vet and to have him there means a lot," Noah said. "I learned a lot from him. And even though we lost a lot of games, we spent a lot of time together. That's my big. And he's the guy who really taught me a lot."
Of course, Wallace, like Noah's current Bulls' teammates, couldn't let him just bathe in accolades. Wallace let Noah know he left some more stats on the floor.
"(Wallace) said I should have had more rebounds and more points," Noah said. "He said I should have had 35. He's a hater. He's a hater but that's why I love him. I'm a hater, too."