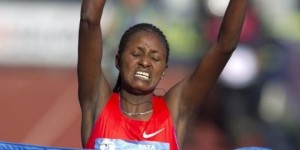 Erba Tiki Gelana is an Ethiopian long- distance runner born on October 22, 1987 in Ethiopia.
She is as tall as 1.65 m and weighs 48 kg.
Journey :
A cousin of the 2000 Olympic marathon champion Gezahegne Abera, Tiki began competing in road races in Ethiopia and came fourth at the 2004 Great Ethiopian Run. She went to Catalonia in Spain in 2006 and made her debut over the half marathon distance, including wins in Mataró and Terrassa.
Palmares :
-2006: winner of the San Silvestre Barcelonesa 10K race at the end of the year.
-2007: She travelled to Japan in 2007 and won the 10K at the Sanyo Road Race – her time of 31:54 minutes made her the third fastest Ethiopian of the year.
-2008: She won the 2008 Women First 5K in Addis Ababa in March, then came fourth at the high-profile World 10K Bangalore in May.
-In summer she set a 5000 m best of 15: 17.74 min at the internationals Stadionfest and a 10 000 m best of 31: 27.80 min at the Ostrava Golden Spike.
-2011: 1st 2: 22: 08 hours almost eight minutes faster than her prvious in the Amsterdam Marathon
-February 2012: winner of the Kagawa Marugame Half Marathon in 1:08:48 hours.
-She broke the Europian record with a run of 2: 23: 07.