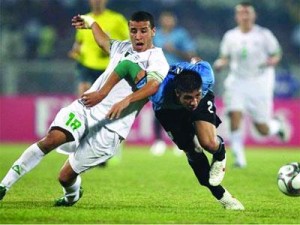 The 12th edition of junior Afcon to be held in Algeria in the second half of March will bring together a mix of specialists and neophytes test, two teams will make their debut and two others compete in the second phase of their history.
Ghana, three times winner of the event (1993, 99, 09), returns for the 9th time. However, the qualification has long been doubted by his last opponent, Morocco.
Beaten 4-1 in Accra, Moroccans led 2-0 at halftime of the game back to Rabat.
They finally won by 3 goals to 1, score enough to rule Ghanaians are so far the only team to have won the world title of the category (2009).
African champions in the first edition in 1991 and 2003, Egypt will play its 9th CAN. His qualification was not assured after his narrow victory in the first leg (2-1), but it has preserved the advantage from obtaining a goalless draw in Luanda.
Nigeria, another winner (2005, 11), will have its eighth finals thanks to a brace from midfielder Abduljelil Ajagun and rush striker, Alhaji Gero against the South Africans.
The protected John Obuh Amajita which forced to concede the draw in the first leg will attempt to retain their crown won last year in South Africa.
Ever sacred, three times semi-finalist (1995, 2003.11), Mali got his ticket at the expense of Zambia. After a draw in Kitwe, the Eaglets were able to make a difference at home, demonstrating that their country had one of the best pools of young people. Zambians have had bitter experience in Bamako, bowing heavily on two goals from Samba Diallo and a third Tiécoro Keita.
Gabon, which got rid of Burkina Faso is fully in line with its continental U23 title in December 2011, followed by a first participation in the Olympic Games. In Algeria it will have its second phase U20 final after its debut in 2003, which earned him a 5th place.
Benin, a semifinalist at home in 2005, the year of its presence in the finals, scored first Côte d'Ivoire and Senegal. Every time the little squirrels seemed a prey designated for Elephants and Lions, every time they made a difference at home before going to first make playing field in Abidjan (0-0) win and go to Dakar (1-0). This line could be a challenger for the unexpected visit Algeria.
The qualification of the DR Congo in Kinshasa against Cameroon, finalist in the last edition, has been hailed in the country as an event. First he had to remove the Cubs who had won the first round with a margin interesting (2-0) and it was not written in advance, then the win with four goals stands first appearance in the finals CAN U20.
Qualified to halftime leading 2-0, the Congolese have scored a third goal shortly after the break. But a goal in the 73rd minute Cameroon has changed the situation. A quarter of an hour late, it was the Cubs who were qualified.
But this qualification will be short, four minutes, with the aim of Pierre Botayi Bamato (77th) sending Léopardeaux permanently in Algeria, a country which, too, will have its first appearance in the finals.
Results of the latest round of the playoffs:
Burkina Faso – Gabon  2-2  0-2
Ghana – Maroc  4-1 1-3
Cameroun – RD Congo  2-0 1-4
Zambie – Mali  2-2 0-3
Bénin – Sénégal  3-1 1-0
Afrique du Sud – Nigeria  1-1 1-3
Egypte – Angola 2-1 0-0
Countries qualified:
Algeria (host country), Benin, Egypt, Gabon, Ghana, Mali, Nigeria, DR Congo