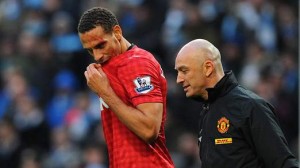 Manchester City have apologised to Manchester United's Rio Ferdinand after he appeared to be hit by a coin thrown from the crowd.
The player was left bleeding after he was struck in the face as he celebrated his side's injury-time winning goal in their 3-2 victory at City's Etihad Stadium.
Former England captain Ferdinand sustained a cut just above the eye in the incident, which is being investigated by police and the Football Association.
The defender was able to complete the game and left the pitch holding his shirt to the wound, accompanied by a match official.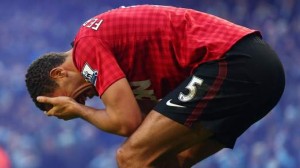 Watch the video here :
[youtube]http://youtu.be/6hOdS0c0TPg[/youtube]