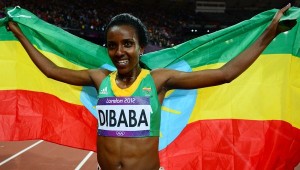 Tirunesh Dibaba is an Ethiopian long distance track athlete of the 5 000 and 10 000 meters category born on June 1, 1985 in Bekoji in Arsi in Ethiopia.
Her father's name is Dibaba Keneni and her mother is Gutu Tola.
She the cousin of  Derartu Tulu, the Ethiopian long distance track, road and marathon athlete.
She rejoined at 14 the Ethiopian capital town, Addis-Abeba with her elder sister Ejegayehu Dibaba.
Journey :
The Ethiopian athlete, specialist in long distance races won three Olympic titles, four world championship titles and four track titles of world champion cross country (including 1 cross court). She is the only athlete to have achieved the double in 5000 and 10,000 meters in an edition of the Olympic Games (2008). It is also the first to win the 10,000 meters in two consecutive games (2008 and 2012).
Palmares :
2002: Kingston Junior World Championship. 2nd 5 000 m
2003: Paris World Championship. 1st 5 000 m
2004: Athens Olympic Games. 3rd 5 000 m
2005: Helsinki World Championship. 1st 5 000 m. 1st 10 000 m
2006: Africa bamboos Championship. 2nd 5 000 m
2007: Osaka World Championship. 1st 10 000 m
2008: Addis Abeba Africa Championship. 1st 10 000 m
Beijing Olympic Games. 1st 5000 m. 1st 10 000 m
2010: Nairobi Africa Championship. 1st 10 000 m
2012: London Olympic Games. 1st 10 000 m. 3rd 5 000 m
Personal records :
In the open air
3 000 m : 8 min 29s 55 on July 28, 2006 in London
5 000 m : 14 min 11s 15 (RM) on June 6, 2008 in Oslo
10 000 m : 29 min 54s 66 on August 15, 2008 in Beijing
In Hall
3 000 m : 8 min 33s 37 on January 26, 2008 in Boston
5 000 m : 14 min 27s 42 (RM) on January 27, 2007 in Boston
Tirunesh Dibaba is one of the nominees for Best sporting lady of the year. Vote for her here : http://www.africatopsports.com/africatopsports-awards-2012/