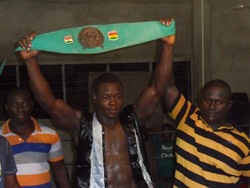 Emmanuel Omari Danso, the Ghanaian boxer nicknamed Kwahu Tyson has realized the first of many ambitions after claiming the vacant Ghana Light Heavyweight championship with victory over David Okai.
Unbeaten Kwahu Tyson (16-0, 16 KOs) has vowed to live by his American namesake, Iron Mike Tyson and destroy opponents on his way to achieving the much craved dream of becoming boxing world champion.
And Kwahu Tyson has taken a giant step towards realizing his world conquering desires after improving his 100% win and 100% knock record courtesy an 11th round technical knockout win against Okai at the Will Power Boxing Complex in Accra.
He is by the victory also now the number 2 ranked boxer at Light Heavyweight on the African continent but according to Ofori Asare, coach of the budding boxer, Team Kwahu Tyson are patient to let Omari Danso gain more fight experience before thinking of taking on the best in the world.
"Locally there is no opponent again for him because he has beaten them all so maybe we shall look for opponents around the neighbouring countries like Nigeria, Benin, then go for the Africa title next year.
We have no doubt he has all the ability to go for a world title even today but we are not rushing. We are looking at this long term so we are patient," Coach Ofori Asare told the Sportsinghana.com at ringside. Backing both trainer and boxer is Kwame Acheampong AKA To Be who is Manager of Emmanuel Danso.
Acheampong has pledged to give all the support necessary for Kwahu Tyson to become world champion.
"I know he will become a world champion, I have no doubt and I assure him of my very best support all the way. But nothing comes easy that's why he must train so he will make everyone proud," said Mr. Acheampong famous around the Kantamanto business hub in Accra as To BE.
He added: "When he does it, it's not for me, it's not for the coach but Ghana. We will give him all the support, all he has to do is to devote more time to training and improvement everyday and listen to the coach. He is a raw, good talent."