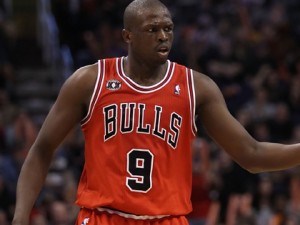 Luol Deng is a British professional basketball player born on April 16, 1985 in Wau in what is now South Sudan.
He is as tall as 2.06 m and weighs 100 kg.
He plays at small forward position for the National Basket Association's Chicago Bulls.
Journey :
Since his birth in Sudan, Deng has lived in Egypt, the United Kingdom and the United States. He played under the colors of the English national team category in small (under 16 years) and younger (under 19 years) and was a representative for the London 2012 bid for the Olympic Games .He plays in the NBA Chicago Bulls. He got the British citizenship in 2006.
Career highlights and awards :
USBWA National Freshman of the year 2004
NBA All-Rookie First Team in 2005
NBA Sportsmanship Award in 2007
Central division champion in 2011 and 2012 with the Chicago Bulls
Selected in the NBA All-Star Game in 2012
NBA All-Defensive Second Team in 2012
Player who spent the most time on average in the field during the 2011-2012 season with 39.43 minutes played per game.
Luol Deng has been nominated for the title of the best communicating on social networks to Africa Top Sports Awards 2012:
Just vote here : http://www.africatopsports.com/africatopsports-awards-2012/
Also read: http://www.africatopsports.com/2012/11/11/nba-fin-de-serie-pour-minnesota/