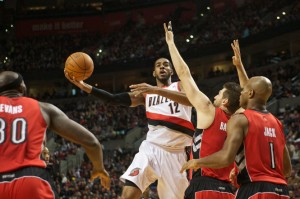 The Portland Trail Blazers' lack of depth has been one of their major downfalls this season, which doesn't bode well with Nicolas Batum and Wesley Matthews nursing injuries.
There's a possibility neither will play Monday night as Portland seeks an eighth straight victory over the visiting Toronto Raptors, who have lost an NBA-high 13 road games.
After a 2-5 road trip, Portland (8-12) returned home and fell 99-80 to Sacramento on Saturday, shooting 38.7 percent and committing 19 turnovers. LaMarcus Aldridge scored a team-high 17 points and added 10 rebounds while J.J. Hickson added 14 points and 15 boards.
"We didn't have a lot of energy and they just outplayed us and beat us," said rookie Damian Lillard, who had 12 points.
Batum scored five points in 17 minutes, but he was clearly bothered by a nagging back strain. Making matters worse, Matthews suffered a left hip contusion and flexor strain in the second half.
After the team's Sunday practice, Batum said he doubted he would be able to play Monday and Matthews wasn't sure the limited improvement of his hip would be enough to be in the lineup.
"You just hope that they're OK. You don't need those two guys out for any time," said Aldridge, who scored 33 points and grabbed a career-high 23 rebounds in a 94-84 win over Toronto in the most recent meeting Jan. 20. "You don't want those guys to have anything serious wrong with them."
That's especially true for a Blazers team that is by far the worst in the league on the bench, getting only 14.9 points from its reserves. Portland's bench hasn't outscored the opposition's once this season.
Lillard said playing without Batum or Matthews, possibly both puts more pressure on the rest of the regular starters.
"When you have Nic and Wes on the wing, teams have to honor their ability to knock down 3s and their ability to get in the paint and make plays for other guys," Lillard said. "When they went down, it was kind of like every time I got in the paint more attention was on me without them on the floor. Of course it was tough."
The Blazers had won their previous three at home prior to Saturday's defeat. They'll look to get back on track against the struggling Raptors, who have lost the first four of their five-game road trip and fell to 1-13 away from home with a 102-83 loss to the Los Angeles Clippers on Sunday.
Toronto (4-17), which has dropped 10 of 11 overall, was outscored 25-10 in the fourth quarter.
"It came out of nowhere," said DeMar DeRozan, who scored a game-high 24 points. "We just didn't score and we couldn't get any stops, and they took advantage of it."
General manager Bryan Colangelo met one-on-one with many of the team's players and coaches Saturday night trying to figure out the team's struggles, but nothing helped prevent the Raptors from falling to 0-13 when giving up more than 100 points.
They rank only ahead of Houston defensively, allowing 103.5 per game.
"I thought our defense was on par in the first half until the middle part of the third quarter, when I thought it went south," coach Dwane Casey said. "You've got to do it for 48 minutes."
Aldridge has averaged 28.5 points and 13.8 rebounds in the last four meetings with Toronto, which has lost eight of its last nine trips to Portland.