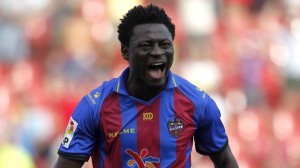 With such a speed, he should get a position of holer in the Super Eagles of Nigeria.
Obafemi Martins contributed a lot on Sunday in the large victory of the Levant 4-0 against Majorque.
The Nigerian player happened to score a goal during the encounter. His teammates Vicente Iboora, Garcia Santos and David Navarro have also scored.
No doubt, the clichés of his nightlife with the sister of Mario Balotelli in the press this week did not start its effectiveness.