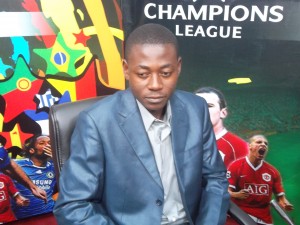 Present from November 23 to December 10 at the 10th trade fair of lomé, Africa Top Sports happened to get closer to its readers and tried to explain what it has been doing. It was the business of Steven Lavon, journalist of sports on the website of Africa Top Sports to provide outstanding explanation on Africa Top Sports.com.
Could you introduce Africa Top Sports to us please?
ATS is a sports news portal on Africa sports in French and English where the piece is made to the promotion of talent.
We strive to find those who will be tomorrow's African sports fans by conducting interviews, portraits and other background papers.
However, the news of the moment is screened in real time and 24 hours on 24, 7 days over 7. Sponsored by former French international Basile Boli Ivorian origin who believes in the project, ATS does not fail to open a page on the current international sport. In short, Africa Top Sports wants to become a reference site in the global media bosom on the web and in Africa in particular.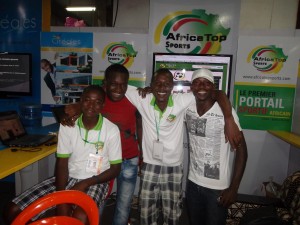 Any anecdotes during your career?
I'm young, but I can say that I have the opportunity to start journalism earlier. I knew that's what I wanted to do after my passing dream to become a footballer. I had the human resources but it is not enough to become professional soccer players. But when it was a question of choosing a career, I wanted to stay glued to the sport so here I am.
Unfortunately, Togo had very few opportunities at the time but after college I was able to get trained . Once I started, having the chance to meet Emmanuel Adebayor who is the best player of our younger generation in Togo is a huge satisfaction. After things were chained. The chance to meet and chat with Ghanaians John Paintsil, John Mensah, Andre Ayew, Tagoe and others  was great.
After I saw the contact very easy, everything was very fast with the players of the team of Togo as the knife through butter. Since I'm at ATS, things still go for the best. And meet and talk with Basile Boli is a bit of a journalist's must in Togo. He was visiting our premises and I seized the opportunity. I also had the chance to chat with Namibian Frankie Fredericks, the 100m World champion. The  Bolt of the continent, it was great.
What happened at the fair in Lome?
This event was awesome. Beyond our expectations. Africatopsports.com and en.africatopsports.com are new websites which should get closer to the public. That is why we chose the Lomé fair which is a great commercial hub in West Africa. So we have seen many Togolese, Ghanaians, Ivorians, Central Africans, Benin, Guinea, in short the countries of the sub-region.
Interviewed by Benoit Dosseh