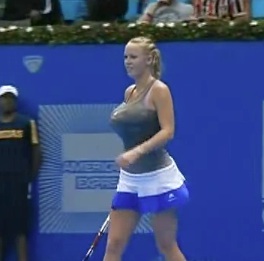 Tennis star Caroline Wozniacki has been accused of doing a 'racist' impersonation of fellow tennis player Serena Williams after stuffing her bra and shorts.
At a recent exhibition against Maria Sharapova in Brazil, the former world No. 1 stuffed courtside towels down her kit to replicate the body of the curvaceous Grand Slam champion.

But now the 22-year-old Dane, whose boyfriend golfer Rory McIlroy was in the crowd, has now been accused of racism by some observers.
The Huffington Post, says 40% of its readers thinks the joke was racist, 39% think the opposite and 21% do not have nothing to say about it.
What do you think? Let us know.
Watch the video link below :
[youtube]http://youtu.be/oYOCsqyiBpc[/youtube]