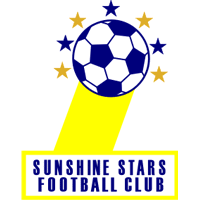 They ended their race in the semi-finals of the African Champions League in 2012.
And yet, Sunshine Stars players are still feared on the continent.
Sunshine Stars is one of the best teams on the continent.
The Nigerian club is surging on the continent and wants to tickle the top of African football.
In 2011, Sunshine Stars reached the semi-finals of the African Confederation Cup. In 2009, "Agagu Boys" (nickname of Sunshine Stars FC training) had stopped in the first round of the Cup UFOA. A ramp that allows the team to be selected among the best clubs in the continent.
Several African players among others, the international player of  Benin Razak Omotoyossi went through the team that wants to be an academic center.
The general manager of the team, Gbenga Ogunbole is ambitious. He managed to imbue with his technical staff to gain rage to Isaac Hale, Solomon and the other Kwambe Ibrahim Ajani, all players of the team.
In 2010-2011, Sunshine Stars finished second overall. However, the club had played in 2001 and 2007, the second division. The club has a reputation of being  coached by the  Argentine Rodolfo Zapata.
Sunshine Stars was nominated the Best African club to the 2012 Africa Sports Top Awards.
Vote here :  http://www.africatopsports.com/africatopsports-awards-2012/