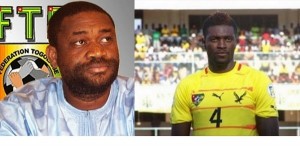 The crisis that shook the Togolese football has been curbed. If we stick to what the President of the Togolese, Gabriel Ameyi, in an interview granted by RAI (Algerian international Radio), the "misunderstanding" was "resolved".
Togo initiates preparations for its ninth qualification to Afcon: "The preparations are going well. There is no internal problem, this was just a misunderstanding. In any case, Togo remains calm and we are optimistic about our participation in the next Afcon in South Africa. This is to say that it was not a crisis and that we have solved everything. Everything is in order. Players are calm and trust us. In Togo, we  have always been able to find solutions for this kinds of situations".
Solution found, Gabriel Améyi also announced the presence of the Captain of the Eperviers of  Togo,  Emmanuel Adebayor in  the group for South Africa,  "Adebayor is a great man and a great player. We respect each other. The Togolese Federation remains committed to him, and do not worry, he will be right there with us in theAfcon. Do not worry about him, and just get prepared to confront Togo with Adebayor".

Also read:
http://en.africatopsports.com/2012/11/26/togo-adebayors-truth-about-the-president-of-togolese-football-federation/
http://en.africatopsports.com/2012/12/03/football-adebayor-quits-togo-again/