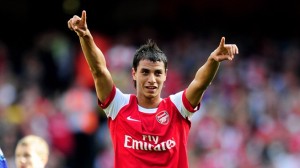 Marouane Chamahk scored his last goal for Arsenal on November 17, 2011 in Blackburn (3-4).
The Moroccan striker has played 12 minutes with the Gunners in this season after some fifteen matches so far.
His last and only doubled with the club dates back to November 10 in Wolverhampton (2-0). And nothing more!
The player became a ghost at the Émirat Stadium; but be careful! He is getting noticed on social networks.
Also absent in the selection, Chamahk is however nominated as the most communicating player on the social networks. On facebook, the former player of Bordeaux had received more than 600 000 "I like" and counts over 120 000 fans.
"My name is Marouane Chamahk, I am a player of Arsenal. So I would be glad enough to chat with everyone of you", is the last tweet of the Moroccan player of Arsenal".

Marouane Chamahk always present on his twitter, likely to handle the trophee of the most communicating player on social networks to the 2012 Africa Top Sports Awards.
Just vote for Marouane Chamahk here: http://www.africatopsports.com/africatopsports-awards-2012/
Join Marouane Chamahk on Twitter: @chamahkarsenal