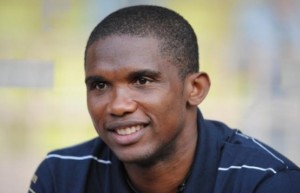 How else could it be otherwise? He is with Didier Drogb  two of the best players in the world and ambassadors of African football.
The Ivorian has unveiled a few days ago in Paris, his comic. Samuel Eto'o should  follow steps very soon.
The Cameroonian striker and captain of Anzhi Makhachkala in Russia announces his arrival in Cergy, Velizy, Angoulême, Lille and Marseille in the late January 2013. It will be the occasion of the release of the comic, event titled "Eto'o Fils Volume 1, Birth of a champion".
The story of the work is signed by Samuel Eto'o himself, while the screenplay and designs are the masterpiece of Joëlle Esso. The comic will be done by DAGAN editions.
Here is the trailer of the comic of  Samuel Eto'o:
[dailymotion]http://www.dailymotion.com/video/xvqphh_bd-samuel-eto-o-fils-t1-bande-annonce-et-spot-eto-o-dagan-editions_creation[/dailymotion]
[dailymotion]http://www.dailymotion.com/video/xvi8q1_exclusif-samuel-eto-o-fils-parle-de-sa-bd-eto-o-fils-naissance-d-un-champion-dagan-editions_creation#.UMdgeHdg_IU[/dailymotion]