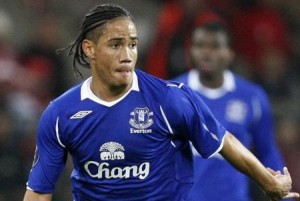 Tottenham lost against Everton on Sunday during the 16th day in the England championship. Yet ahead in terms of goals to 15 minutes to the end (a goal by Clint Dempsey), the Spurs got reached and exceeded at the stoppage time (2-1).
It is the South African Steven Pienaar who sounded the revolt at the 90th minute for the Toffees. A minute later, his co-player Nikita Jelavic handed the victory to Everton.
Tottenham remains the 4th bet give way to Chelsea (3rd) whereas Arsenal is actually getting closer (only 2 points of delay).
Togo's Emmanuel Adebayor, scorer in the Europa League last Thursday, was again tenured in attack alongside Jermaine Defoe. Adebayor played the entire game.