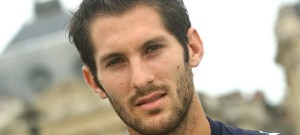 As said, it sounds like a joke but it is the statement that will be controversial in the world.
It comes from Florian Marange left side of the Girondins de Bordeaux in Ligue 1. You don't know who it is about, right!
Apart from the purists championship of France, very few know him. But he will  soon become the major figure of some European newspapers. You have been warned!
Here's what he said on RMC about Argentina's Lionel Messi who keeps falling records.
"How is it that he is like that? Even Christiano (Ronaldo) is a very good player, even Zidane. Zidane at Juventus, there were passages where it was worse, like in Real Madrid. Messi is only 25 years, every match he scored goals in every match he is good, he is never injured. It's pretty impressive. So I wonder if he is not doped or did not do something because you will say it is not possible to chain matches, scoring, to be always 100 % ".
"When you chain matches, you're tired. Messi , I  feel like he is never tired. He must recover, he must have a nutritionist for himself, a physical trainer, a great lifestyle. Even when you see Zlatan, he is a great player, but there are games where he will miss, it will not be good. He  (Messi), no. "

Read also and watch:
http://en.africatopsports.com/2012/11/25/football-superman-messi-nears-mueller-goals-record/
http://en.africatopsports.com/2012/12/07/football-lionel-messi-clear-after-injury-scare-video/