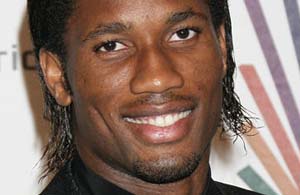 Didier Drogba is an Ivorian footballer born on March 11, 1978 in Abidjan in Ivory coast.
He is as tall as 1.89m and is the cousin of the former Ivorian international player of Chamois Niortais, Sheffield United and Celtic Glasgow, Olivier Tébily who retired since 2008.
His brothers Jpël Drogba, Wilfrid Drogba and Junior Drogba are also footballers.
Marital life
He got married with Lalla Diakité with whom he has got two boys and a girl namely Isaac, Iman and Kieran.
Journey
As an Ivorian international, he played in the biggest clubs in Europe before seducing the Chinese. He won in 2012 the Champions League with Chelsea.
Clubs
-he firstly signed with S.C Feignies.
-1989: he joined his sporting club of Abbevillle.
-1991-1993: he played in AGMB in the Loiret
-at 19, he joined Mans where he signed his first professional contract.
-2002: he joined Avant de Guigamp whereby he completed the champions league with 3 points.
-2003: he signed with Marseille. He scored 19 goals in the championship.
-July 2004: he joined Chelsea with a transfer of 38 million of Euros.
-July 19, 2012: Drogba signed a two years and half contract with the Chinese club of Shanghai Shenhua.
Various
-March 10, 2012: he became the first African footballer having scored 100 goals in the Champions League.

Palmares
Marseille
-2004: he played and lost the UEFA Cup
Chelsea
-England champion in 2005, 2006 and 2010.
-winner of the champions league in 2012.
– The England Cup in 2007, 2009, 2010 and 2012.
-The English League Cup in 2005 and 2007
National team
-finalist of the Afcon in 2006 and 2012
Some of his interviews
"The African Cup of Nations of the next year will be  my last one. At a certain time of life, one should make up his mind. I can also confirm that the 2014 World Cup if ever we happen to qualify, will be my last competition on the global scale" France Foot. November 2012.
"It is Nicolas Anelka who convinced me to sign with Shanghaï. He made me win times during the adaptation. He helped me in many domains. We two have marked the history of Chelsea and we have won titles and have broken records……"
Didier Drogba is nominated for the titles of Best sportsman of the year and Best African player of the year at the Africa Top Sports Awards.
If you think, he deserves to win, vote here : http://www.africatopsports.com/africatopsports-awards-2012/