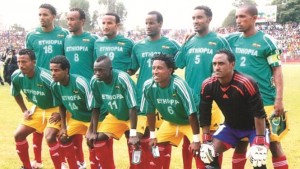 After a disappointing time at the  Cecafa Cup (eliminated in the quarterfinals), Ethiopia finally begins its preparations for the next Afcon.
The coach has published a list of 26 players who will be in training this week. The group includes 10 players from the country's  champion club,  St George. Other teams such as Dedebit FC Ethiopian Coffe, EEPCO, etc. also supply the Walya Antelopes.
Sewinet Bishaw has now less than 40 days before the start of the competition to put his team at the level of the competition. They will face Morocco particularly for a friendly match on January 12.
After 31 years of absence from the great continental mass, Ethiopia was housed in group C. It will compete with Zambia, Nigeria and Burkina Faso. What is to be said in advance that the task will not be easy.
The list:
Degu Abebe, Biadgelegn Elias Abebaw Butako, Shemelis Bekele, Girma Adane, Umed Oukri, Fitsum Gebre-Mariam, Alula Girma, Yared Zenabu, Zerihun Tadele, Zerihun Tadele, Sisay Bancha, Getaneh Kebede, Berhanu Bogale, Aynalem Hailu, Tesfaye Seyoum, Aklilu Ayenew, Addis Hintsa, Menyahel Teshome Assefa Behailu Jemal Tassew & Dawit Estifanos, Asrat Megersa, Fikru Tefferi, Dereje Alemu, Medhane Tadesse Mesfin Mulualem.