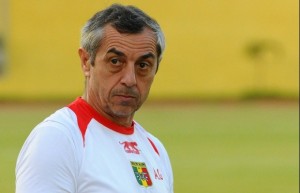 The French coach Alain Giresse is visiting Tripoli since Wednesday . He wants to study the "conditions of work and life" in Libya, which made him an offer to become the national coach, he told AFP. "I have come to Libya to discover, see the conditions of work and life," said Giresse.
"I need to know what the conditions are, where is the football … will have to finish my stay before get all the elements and  draw conclusions," said the former coach of Mali.
On December 4, the FLF announced that negotiations were "very advanced" with Alain Giresse to sign a year contract renewable for a monthly salary of 25,000 euros.
Alain Giresse has already agreed in principle, according to a member of the FLF, and the signature of the contract should not delay. He  is also a candidate to lead Senegal.
See also:
http://en.africatopsports.com/2012/10/18/football-senegal-banned-from-nations-cup-after-riot/