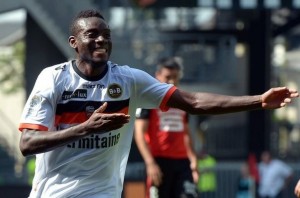 When it comes to scoring, Alain Traoré is always eyeful to the football fans. Wednesday in Ligue 1, Lorient beat Sochaux 2-0.
The opportunity for the Burkinan midfielder to bring out one of his mines whose secret he has.
After a first warning repelled by the goalkeeper in the 41st, Alain Traoré sent it again three minutes later on a missile from the left into the right side of the netting (44th).
He is fully recovered from his blow against Marseille last weekend. The former Auxerre is the only player of the five major European championships to score 5 goals outside the surface. The other goal of the game was the work of the Ivorian defender, Lamine Kone.