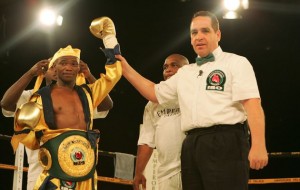 Last Saturday, the boxer Nkosinathi Joyi won the World belt of the WBA category. The 29 years old South African defeated the Argentine Walter Rojas.
"I did not think the end of the fight was going to happen so quickly, but I knew I was going to knockout. I tried to fight, but the guy in front was not combative. "
However the Argentine boxer possesses a rich track record with 19 wins, 18 by KO in 21 fights and only one defeat. For his part, Nkosinathi Joyi signs his 23rd victory in 25 fights.