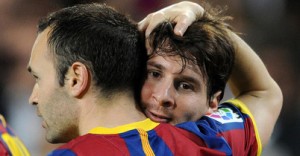 Very fair play Jorge Messi. Not that much actually. The Dad of the "destroyer of records" only sees his son to win a fourth consecutive golden ball in January.
But he says, however, that his second choice would stride on Andres Iniesta, the Spanish teammate of Lionel Messi.
"If my son does not win I will give the Golden Ball to Iniesta without hesitation," said Jorge Messi.
See also:
http://en.africatopsports.com/2012/11/25/football-superman-messi-nears-mueller-goals-record/