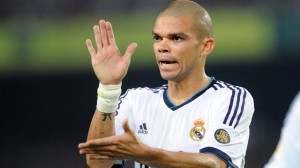 The Portuguese defender of Real Madrid should again have some trouble. On Wednesday,  in the King's Cup, Pepe is further illustrated in the worst ways.
Visibly frustrated as his team lost 2-0 against Celta Vigo, the former Porto player has just put a heel in the family jewels of his opponent.
The question is whether it was done on purpose. Knowing the man, we are not far from the answer.
In any case, the Commission watching the Spanish League should have an idea!
Look.
[youtube]http://www.youtube.com/watch?v=zXhlqLpqEwY&feature=player_embedded[/youtube]