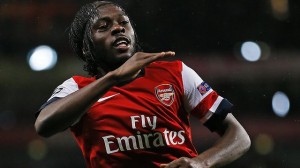 Arsenal boss Arsene Wenger has said that he will give Gervinho a rest when he returns from the Africa Cup of Nations in February.
The Gunners forward has been called up to play for the Ivory Coast for the 2013 tournament, which kicks off in South Africa on 13th January.
The final takes place on February 10, meaning gervinho could conceivably miss nine Arsenal first-team fixtures.
The 25-year-old missed in a penalty shoot-out when Ivory Coast lost this year's Africa Cup of Nations final to Zambia –  and Wenger is wary of rushing Gervinho back to club action.
 "The Africa Cup of Nations starts on January 19, and usually the players have to be there 14 days before – that means we could lose Gervinho on January 5," Wenger told Arsenal player. "Usually it's always a battle to get him to play in the FA Cup third round. 
 "When they come back, the players have played a massive competition. Last year, we never [got] him back completely because he came back with a disappointing result and we didn't give him any rest. 
 "Maybe we have to do it a little bit differently when he comes back [in 2013]."
Ivory Coast begin their Africa Cup of Nations campaign against Togo on January 22. They face Tunisia four days later and complete their group fixtures against Algeria on January 30.