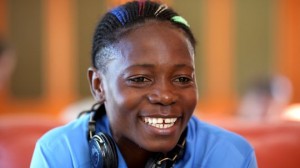 "I am a happy woman". This is the first sentence of the captain of the feminine team of Equatorial Guinea, just after having waved the trophy of the 2012 Afcon of football played in Equatorial Guinea.
Born on April19, 1989, the captain of Zalang, Genoveva Anonma plays as a midfielder. She is evolving in Germany club FFC Turbine Postdam, after having signed in 2011 due to her physical and athletic fitness. This contract is not the first in his career. She had already played in Europe, in the FF USV Lena, also German club.
Palmares :
Genoveva Anonma has already experienced some glorious days in his life in both club and country. She is double African champion (2008 in South Africa and in 2012 at home). In her club, she won with her training the 2005 Cup of Equatorial Guinea with Aguilas Verdes in Malabo. In Germany, she was champion this year with her FFC Turbine Potsdam training.
Individual performances :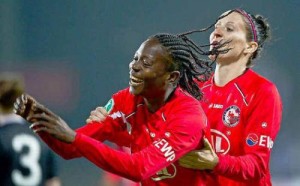 With her performances and qualities, she is the best player and top scorer of the 2008 African Women's football Championship. In Germany, she is the one who allowed the FFC Turbine to win the title of champions with her dazzling breakthroughs. Anonma finished top scorer in the championship of Germany.
Anonma is happy. Her distinctions are illustrative and she proves a serious candidate for the title of player of the year of Africa Awards.
If you think that Anonma deserves to win the title of best football player of the year, vote here :
http://www.africatopsports.com/africatopsports-awards-2012/