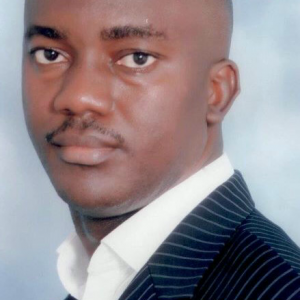 The Super Eagles of Nigeria will take part to the Afcon starting next month in South Africa. But, what to expect from them? In this no-holds-barred interview, Victor McDonald, a Nigerian soccer agent reveals the reasons why big clubs like Arsenal, Manchester United, Barcelona among others are not interested in buying Nigerian players. For him, an attractive Nigerian league is the way out.
Africatopsports : Hi Victor McDonald. You are a famous licensed players' FIFA agent who has managed many players from Brazil, Cote d'Ivoire,Zambia,Swaziland,Benin Republic,Denmark,Guinea,Ghana,Cameroon,Equatorial Guinea,South Africa and Nigeria. What do you think of the Super Eagles's shape, just a month before the Afcon in South Africa?
Victor McDonald : Even though Nigeria is rebuilding her national team with coach Stephen Keshi, that does not take away anything from the fact that Nigeria is still a force to reckon with when it comes to football in Africa. As you know, Nigeria was not at the last African Cup of Nations and frankly, the negative effect took Nigerian football back by 10 years. It was like when the national team players were stopped from taking part in Afcon in 1996 in South Africa or even when we failed to qualify for the Fifa World Cup in Germany. Having said that, I see the present Super Eagles squad getting to the semin finals of the tournament.
In the past few months, you have express your disappointment about the movement of Nigerian players in the transfer window?
Does it mean Nigerian players don't get the value they are supposed to have?
Yes, in the past few years, there have not been plenty of movement of Nigerian players to big european clubs. In fact, they are just very few of them in big clubs. Even those that are there, very few of them command regular shirts in their respective teams. I can attribute the problems to two factors : One is the Nigerian league. The second is administrative. When the league system is faulty, definitely it will affect the national team even when all the players in the national team are foreign based. Our administrators have forgotten that those players playing overseas passed through the league and you need to run the league properly to produce more players who may even be better than the ones that they will replace.  Since the era of Jay Jay Okocha, Victor Ikpeba, Rashid Yekini, Peter Rufai… we have not been able to produce world beaters. With due respect to the present Supear Eagles and their officials.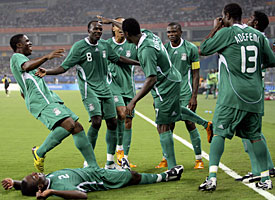 So, what is the real problem with Nigerian football?
I do no want to discuss about the problem, rather I will like to propose solutions. The only solution is to go back to the grassroots. We should encourage local football, school sports and other grassroots organised football and sports activities. I would like to thank Pepsi, Shell, Mobil and Vejle Boldklub of Denmark who for many years now have invested so much in grassroot football and sports in Nigeria.
One may ask why did Vejle choose Nigeria and also is it through that they are building a football school in Nigeria?
Actually, I brought Vejle to Nigeria. They see it as part of their social responsibility to African children, not just Nigerians. Because in the academy, you find players from all over Africa (Nigeria, Ghana, Benin, Cameroon, Guinea, Mali…). They have really helped in keeping many African children out of the streets. It will be recalled that a product of the academy Sani Tahir represented Nigeria at the last under 20 World Cup in Colombia. This same boy was voted the over all best (MVP) at the Dana Cup in 2009 when the academy has won the prestigious Dana Cup (for the under 19s) in Denmark. The following year, they won the Football festival (U-17) in Arhus, Denmark, and came second in the GF Cup (U-19) in Copenhagen. Regarding the soccer school, yes, we wanted to start it before the economic meltdown. The land has been bought and cleared at Mgbidi in Imo State. In fact, everything is set.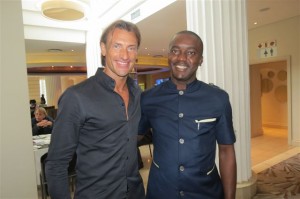 Yourself, what do you do to help players and coach get opportunities outside the local borders?
I do a lot. I do not want to start giving out my tactics here or to start mentioning my players or coaches here. Also, I have worked with and for many coaches from outside the African continent. From Australia to Europe, South America and even Asia. I represent at least three coaches from all the continents of the world.
What are yours expectations for 2013?
I expect African football to get better. More sponsors should be encouraged to come in and invest for the good of the game.
Interview realized by Nicolas Négoce.