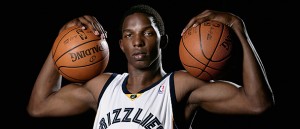 Hasheem Thabeet is a Tanzanian professional basketball player born on February 16, 1987 in Dar es Salam in Tanzania.
Being the tallest active player in the NBA, he is as tall as 2.21 m and weighs 263 kg.
Journey
After his studies at the University of Connecticut, Hasheem Thabeet has been selected at the second rank of the 2009 draft of the NBA by the Grizzlies of Memphis.
In 2011, the Tanzanian basketball player joined the Rockets of Houston. On March 15, 2012, he joined the Portland Trail Blazers with his teammate Jonny Flynn in exchange with Marcus Camby.
On July 14, 2012, he engaged with the Oklahoma City Thunder.
Hasheem Thabeet has been nominated for the title of the best communicator on the social networks to the 2012 Africa Top Sports Awards.
Here is: http://www.africatopsports.com/africatopsports-awards-2012/
[youtube]http://www.youtube.com/watch?v=5GFC5892OTs&feature=player_embedded[/youtube]