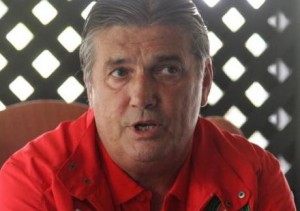 You have been told last week about untied relationships between Henri Michel and the Kenyan Football Federation. The French coach decided to resign.
"To just cut short all the mistaken interpretations, I would like to reveal that I did not happen to find any agreement with my leaders on some points of my contract" confided Michel during a speech made by the French embassy in Kenya.
"For the purpose, I handed my resignation to the Kenyan federation on December 10", he added.
The coach refused to take the national team to the CECAFA Senior Challenge Cup. He reckoned that the tournament is not useful to them. He was expected to lead the team to Burundi last Sunday but the contractual standoff meant the federation hurriedly picked James Nandwa to lead the team.
Henri Michel took the head of the national team last September with the departure of Francis Kimanzi. His mission was to make the Harambee Stars qualify for the 2014 World Cup. He lost his two first matches. The first in friendly matches against South Africa (1-2) and against Tanzania (0-1).