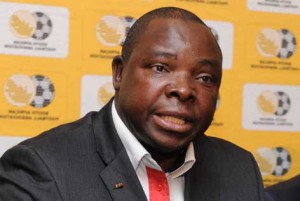 The President of the Football Association of South Africa and four other senior officials were punished following a report by FIFA.
The five suspended leaders are involved in a match-fixing scandal, said on Monday the country's football authority.
Kirsten Nematandani (pictured) and four directors of SAFA (South African Football Association) including the new manager Dennis Mumble were dismissed for having faked four friendly matches played in South Africa before the 2010 World Cup.
The results of the matches against Thailand, Bulgaria, Colombia and Guatemala in the weeks leading up to the 2010 World Cup proved to be arranged in advance for an Asian union in Paris.
Read also:
en.africatopsports.com/2012/11/26/the-number-of-the-day-u-s-53-3-million-for-south-africa-to-host-afcon/