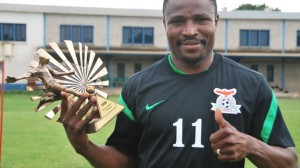 Christopher Katongo has been named on Monday "the best African footballer of the year by the BBC internet users.
The Zambian player succeeds the Ghanaian André Ayew sacred yesteryear.
"This is a fantastic moment for me. I thank all those who voted for me. It is an award that I will never forget in my career. This is great for young people and young players who are identified through me. I could not make it without my teammates. "
"What the fans love to me is the discipline and the fact that I am a man who can fail today but tomorrow back to put his shoes back to work. Appear in the list of the players who have won this prestigious award is just beautiful. I can sleep with a smile on my face. I gave my best, people voted. That's the beauty of this distinction. "
Christopher Katongo, 30, was competing with the Senegalese Demba Ba, Ivorians Yaya Toure and Didier Drogba and Moroccan Younes Belhanda.