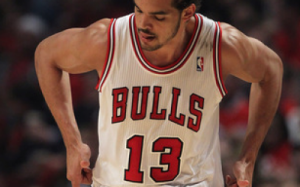 We will not see Noah drawing his gun anymore.
Following the tragedy of Sandy Hook School of Newton, Joakim Noah decided not to imitate the shooter anymore.
The pivot of the Chicago Bulls used to celebrate his external goals by his famous dance of guns.
Appalled by the killing, the son of Yannick Noah told the Chicago Tribune that he stopped the celebration.
Since the tragedy, the Franco-Cameroonian took position on gun control in the USA. He  has also tweeted among others Michael Moore, author of the anti-violence documentary as "The Interrupters" and "Bowling for Columbine".
The killing of Newton killed 27 people including 20 children and 6 adults in addition to the author of the drama.