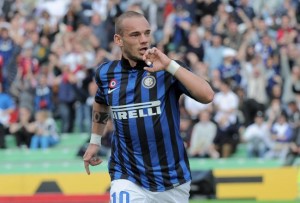 Wesley Sneijder's wife has revealed that the Dutchman will leave Inter Milan during the January transfer window, saying on Dutch television that her husband hopes to wrap up a move in the first few days of the winter window.
Sneijder, who came close to securing move to Manchester United in 2010, hasn't featured for Milan since September and was sent home early for Christmas as a contract dispute between player and club continues to rumble on.
Milan have issued an ultimatum to the former Real Madrid man and told him that he will not play for the club again until he accepts a significantly reduced wage packet.
Now his wife has confirmed that the 28-year-old intends to leave the San Siro in the January transfer window.
"We are about to emigrate anyway, and that could happen in early January," she said. "We are looking for a nice place to start a family as I'm currently not that busy work-wise."
Manchester United and Manchester City have been linked with making a move for the playmaker, however his salary and transfer fee may prove prohibitive.
While Manchester United were keen on Sneijder in the past there has been no indication over whether Sir Alex Ferguson would still like him at Old Trafford.
Manchester City boss Roberto Mancini has reportedly been told he has to sell before he can buy in January.
The most likely more appears top be to Paris Saint-Germain, who have the cash to meet his wage demands, although boss Carlo Ancelotti has previously dismissed rumours linking the Dutch international with a move to the Parc des Princes.