Hannah Louise Miley (born 8 August 1989),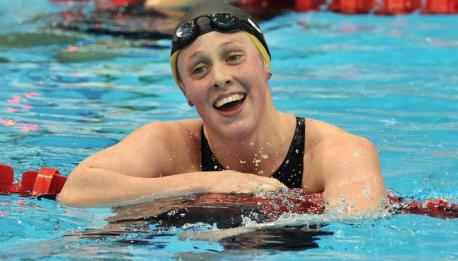 is a British and Scottish individual medley swimmer.
Hannah Miley won the first world title of her career with 400m Individual Medley gold on the opening day of the 2012 World Short Course Championships in Istanbul.
The Commonwealth champion qualified fastest for the final before breaking the Championship record, as well as her own European marker, to take gold in 4:23.14.
China's Olympic champion Ye Shiwen crept up on to Miley's feet in the final 100m Freestyle but the British kicked hard to take the title ahead of Ye (4:23.33) and Hungary's Katinka Hosszu (4:25.95).
Miley set her previous European record at last month's European Short Course Championships in Chartres where she claimed 400m IM gold as well as 200m IM and 800m Free silvers.
Miley admitted she was delighted to have bettered her time from France en route to her first world crown.
"The fact that I went faster than at Europeans is a massive bonus because that time was a really big surprise and I was worried I wouldn't be able to repeat it here," said Miley.
"I knew Ye Shiwen was going to come back on me in that last 100m so I was just hanging on for dear life.
"It's a big confidence boost that no matter where we are in the programme, I can step up in the 400m IM and what we're doing at the moment really seems to be working."
Jemma Lowe reached the podium for the third consecutive World Short Course Championships, stealing in for 200m Butterfly bronze from an outside lane.
The British who won 200m Fly silver in 2010 and 100m Fly bronze in 2008 – took the race out to lead at 150m and while Hosszu (2:02.20) and China's Jiao Liuyang (2:02.28) overhauled her in the sprint for the wall, Lowe held on to lower her British record to 2:03.19.
"I am really happy," said Lowe, who qualified seventh fastest for the final despite winning her heat
"I was in a really slow heat in the morning, so I did not really know what to expect for this final."
"It made it difficult that I was in the outside lane, so I could not see how fast the others were swimming. But it is a final, so you always have to give your best shot."
Miley returned to the pool later in the session, teaming up with Rebecca Turner, Sophie Allen and Jazz Carlin to finish fifth in the 4x200m Freestyle Relay in 7:45.85