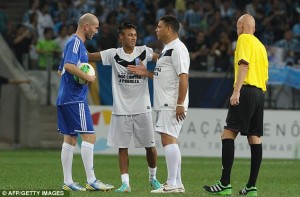 The Brazilian Ronaldo took a nice contrast to the French Zinedine Zidane on Wednesday (3-2) in Porto Alegre at the 10th Match against Poverty.
This was for the team of Ronaldo to open the scoring with Bebeto on a pass from the young Neymar. But Zidane and his teammates equalized some moments later through Falcao, the Futsal player. The former captain of France gives the advantage to his team.
Ronaldo and his partners took over the advantage in the second half. Ferrari Caca has been there before Leandro Damiao hands the victory to his team. Beyond the score, it is the gesture of these champions who wet the shirt for a humanitarian cause that worth to underline.
The Appointment is already made for next year.
For your viewing pleasure relive the five goals of the game….
[youtube]http://www.youtube.com/watch?v=Usia7tVFPsI&feature=player_embedded[/youtube]
[youtube]http://www.youtube.com/watch?v=M4633MW2xac&feature=player_embedded[/youtube]